A1A Ale Works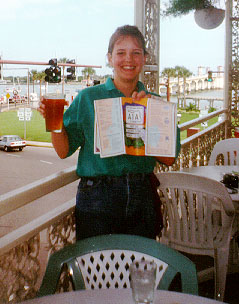 The A1a Ale Works is this brewery in the middle of St. Augustine where Russell and I had lunch on Saturday, Nov. 23, 1996. I can't remember what I had but it was good. The one thing that sticks out in my mind was that the waitress (that's her on the right) was very forgiving when I made a little scene. Just a little one! And I didn't mean to do it.
I ordered a glass of wine with my lunch and the waitress, like any good waitress should, asked me for some identification. I reached for my purse, realized it was no longer across my shoulder and panicked. As I jumped up from my chair, the strangest sound come from my belly and up through my throat, "earuooogaaahhh!" Everyone on the porch turned to look at me, but I didn't care. I could just picture my purse lying on a deserted, dirty street. Or worse, some big bad stranger buying himself a stereo with my credit cards at that very moment! I tried to move. My head turned to the left, to the right, I sat down. I stood back up. My feet however, didn't move, and no English words came from my mouth. Finally, Russell physically sat me back down in my chair. Bless his little patient husbandly heart. The waitress, God Bless her, didn't run, but stood her ground and after the commotion had settled down, just asked, "Are you all right?"
It ended up my purse was in the car exactly where I had left it. Exactly as Russell had told me (of course, I didn't believe him). And after 30 minutes or so, after my heart beat returned to it's normal pace, I had quite a peaceful lunch. Russell and I both liked A1A and will definitely visit again. We even took a picture of our brave and forgiving waitress!
Our waitress was very friendly and courageous
They use washcloths for napkins (lots of places in Florida do this, but this was the first time we had come across the practice)
They have a huge, beautiful second floor porch. You can view the town square or the ocean depending how you situate your chair.

The menu doesn't have a whole lot to choose from if you like to eat healthy
A1A ALE WORKS
1 King Street
St. Augustine, FL 32084
904-829-2977